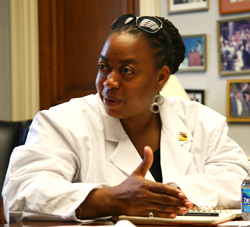 Dr. L. Toni Lewis, Immediate Past President of the Committee of Interns and Residents (CIR/SEIU Healthcare), was named chair of the union's healthcare division in June 2010 by SEIU President Mary Kay Henry. Dr. Lewis brings a great deal of experience as a voice for resident physician rights and improved patient care to her new role, leading efforts of SEIU's 1.2 million nurses, doctors and other healthcare workers to deliver the benefits of the nation's historic healthcare reform law to their patients and consumers.
From the very beginning of her family practice residency at the New York Medical College, Dr. Lewis advocated for resident physician rights and improving access to affordable, quality health care for all. In 2008, she played a central role in building Healthcare United, a national grassroots movement of union and non-union nurses, doctors and healthcare workers that placed the issue of national healthcare reform at the forefront of in the presidential campaign.
In 2009, Dr. Lewis led SEIU's initiative to unite medical residents and doctors during the national healthcare debate, meeting with physicians to build consensus on details of the legislation, as well as mobilizing and educating voters.
Dr. Lewis earned her B.A. in Sociology from Georgetown University and her M.D. from Georgetown University School of Medicine in Washington, D.C. She completed her residency training in Family Practice and fellowship in Geriatric Medicine in Jamaica (Queens), NY at the New York Medical College/Brooklyn-Queens program.