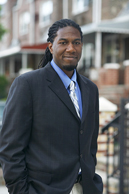 Since being elected in 2009 to represent the 45th District in the New York City Council, Jumaane D. Williams has been a tireless advocate for his constituents. In the wake of the devastating Haitian earthquake of January 2010, he helped coordinate the 45th District Haitian Relief Effort, a mobile clinic that provided economic and legal assistance to those affected and their families. As chair of the Oversight and Investigations Committee, Jumaane co-chaired hearings in all five boroughs to probe the city's failed response to the blizzard of December 2010. He is also a member of the Higher Education, Housing and Buildings, Immigration, Land Use, Landmarks, Public Siting and Maritime Uses and Youth Services committees. Additionally, Jumaane serves as co-chair of the Gun Violence Task Force, vice chair of the Black, Latino and Asian Caucus and is a founding member of the Progressive Caucus.
In the district, Jumaane has brought his experience as an organizer to help unleash the community's full potential with realistic solutions, not political rhetoric. He has instituted a participatory budgeting process for a portion of his discretionary capital budget; under this approach, everyday citizens come together to propose, develop and vote on projects that will be funded in the upcoming year. Jumaane has also focused on engaging local citizens in their community, establishing the Community Volunteer Corps. Additionally, the office's Youth Anti-Violence Initiative, now housed at East Flatbush Village, seeks to provide positive alternatives to young people that will keep them out of the streets.
In the months ahead, Jumaane will continue his focus on reform to the NYPD and the City Charter, as well as push for the rights of New York City's public school children and its tenant population.