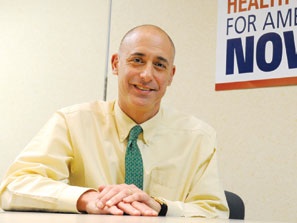 Richard Kirsch was the National Campaign Manager of Health Care for America Now from the Campaign's founding to its successful conclusion in April 2010, after President Obama signed the Affordable Care Act. HCAN is an 1,100 member coalition, led by major progressive organizations, that deployed staff in 44 states and spent $48 million to organize for comprehensive health care reform. As HCAN's chief spokesperson, Mr. Kirsch appeared on PBS's The News Hour with Jim Lehrer, CNN, ABC's World News Tonight and Good Morning America, Fox, CSPAN, and the Colbert Report and was frequently quoted in the New York Times, Washington Post, Wall Street Journal and other national newspapers as well as NPR's Morning Edition, All Things Considered and Marketplace. Mr. Kirsch will publish Fighting for Our Health, a book that recounts the campaign to win health reform, early in 2012.
From 1985 to 2008 Mr. Kirsch served as Executive Director of Citizen Action of New York, a grassroots citizen's organization with 20,000 members and seven offices in New York. Mr. Kirsch also served as Executive Director of the Public Policy and Education Fund of New York, a research and educational foundation affiliated with Citizen Action.
Mr. Kirsch has led successful campaigns to provide affordable, comprehensive health coverage to more than one-million working families in New York. He is an author of New York's Managed Care Bill of Rights, among the strongest HMO protection. Mr. Kirsch helped direct a 1998 ballot initiative campaign that resulted in dramatic improvements in New York City's system of providing public financing of elections.
Mr. Kirsch is the author of several studies on health care reform including: the Managed Care Bill of Rights: A Health Care Policy Guide for Consumer Advocates; the financing of universal health care; health and health system global budgeting; and risk management. He has published oped pieces on health care, tax policy, telecommunications, energy policy and election reform. Mr. Kirsch is also the author of several reports on the financing of election campaigns in New York.
Mr. Kirsch was honored with the Progressive Leadership Award by USAction in 2010. In 2001, Families USA named him Health Care Consumer Advocate of the Year. He received the New York Statewide Senior Action Council Human Services Advocacy Award for "his vision, boldness and relentless dedication in pursuit of health care for all" in June 1995.
Mr. Kirsch received a B.A. with honors from Brown University in 1974 and an M.B.A. from the University of Chicago in 1980. He as worked for USAction affiliates since 1980 serving as the Financial Director of what is now Citizen Action of Illinois and as a founding co-Director of New Jersey Citizen Action. He has worked for Citizen Action of New York since 1985. His first public interest job was with Ralph Nader's Public Citizen.
Mr. Kirsch is currently a Senior Fellow at the Roosevelt Institute and an Institute Fellow at the Rockefeller Institute. He sits on the boards of USAction and the Public Campaign Action Fund.