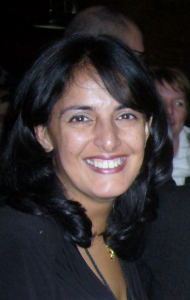 Sujata has two decades of experience with progressive and Democratic campaigns and organizations. She has developed and directed electoral and issue advocacy campaigns and strategized with organizations and donors to lead them through critical junctures in development, planning and implementation.
Highlights of Sujata's career are: directing self-research for Sen. Paul Wellstone's 1996 campaign and the Democratic National Committee from 1997-1999, deputy managing Sen. Max Cleland's 2002 campaign, managing battleground direct mail and phones for Kerry-Edwards 2004, overseeing election protection for Harold Ford, Jr.'s 2006 senate race, serving as a Senior Election Advisor for the Ohio Democratic Party during 2008 and 2010 GOTV, coordinating the vetting, approval and implementation of a nationwide Independent Expenditure campaign in 2010, and training some of America's best progressive candidates, campaign staff and activists over the years.
In addition, Sujata was Managing Director of Unity '09, a coalition that was critical to advancing legislation on health care, financial regulatory reform, energy and immigration reform in the first two years of the Obama Administration. In 2008, Sujata was CEO of ISSI, a non-profit corporation that provides state-based data management, targeting advice and staffing critical to the success of electoral and civic engagement programs in the states for a variety of progressive organizations America Votes and State Voices and their partners. Over the past few years, Sujata has also served as a donor advisor to funders of progressive causes like the Atlantic Philanthropies, Corridor Partners, and others.
Among the issue advocacy and social marketing campaigns Sujata has worked on, she developed and implemented the Protecting Our Health campaign for 1199 SEIU Benefit and Pension Fund – an awareness campaign for the Fund's 200,000+ members. She was involved in Cover the Uninsured campaigns sponsored by the Robert Wood Johnson Foundation, first as National Field Director in 2003 and then for many 4 subsequent years.
Sujata is committed to developing the next generation of progressive political professionals and a mentor to younger staffers and assists organizations with recruitment and hiring. She is an experienced facilitator and trainer, coordinating and training political strategists, activists, leaders, and candidates for 1199SEIU United Healthcare Workers East (UHWE), Ohio Democratic Party, Wellstone Action!, the Ballot Initiative Strategy Center (BISC), EMILY's List, The Council of Urban Professionals, The Working Families Party, The New York Civic Engagement Table, The White House Project, Campaign Corps, New Organizing Institute (NOI), and Democratic GAIN. Sujata has also created, written and implemented international training programs in Australia for the Australia Labor Party – International Projects and Campaign Action (a progressive candidate and campaign training organization.)
Sujata's clients have included State Voices, Corridor Partners, BISC, Wellstone Action, The Atlantic Philanthropies, Planned Parenthood Federation of America, Australia Labor Party, Campaign Action (Australia), Ohio Democratic Party, Unity '09, ISSI, 1199SEIU UHWE, 1199SEIU Benefit and Pension Funds, United Nations Foundation, NOI, SEIU, EMILY's List, Human Rights First, GMMB, The Markle Foundation, Democratic National Committee, Democratic GAIN, LSG Strategies, and The Feldman Group.
A first-generation Indian-American, Sujata was born and raised in Memphis, Tennessee, holds a B.A. in International Studies from Vassar College, and currently lives in New York City, where she enjoys all things pop culture – from TV to movies, books to Broadway. In between campaigns, her love of travel has taken her to India, Australia, Indonesia, New Zealand, Maldives, China, Madagascar, Turkey, Malaysia, Singapore, Denmark, France, Greece, the Soviet Union (back in the day), the Galapagos Islands, Lithuania, Latvia, Estonia, Czech Republic, Costa Rica, almost all 50 of the United States, and more!