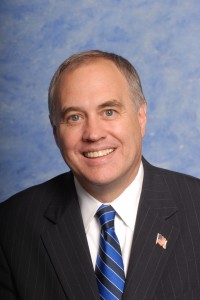 State Comptroller Thomas P. DiNapoli was elected to a full four-year term as New York State Comptroller in November 2010.
Since first taking the position in February 2007, DiNapoli has transformed the way his office does business, instilling reforms to make government more effective, efficient and ethical. He has pushed for increased transparency and accountability in government, and identified billions of dollars in waste, fraud, abuse and mismanagement.
DiNapoli, New York's chief fiscal officer, is responsible for auditing the operations of all State agencies and local governments, managing the State's pension fund, overseeing the New York State and Local Retirement System, reviewing the State and New York City budgets, approving State contracts, and administering the State's payroll and central accounting system.
As sole trustee for the estimated $150.3 billion (As of March 31, 2012) State pension fund, one of the largest institutional investors in the world, DiNapoli has:
Safeguarded the interests of over one million members, retirees and beneficiaries
Imposed tough new rules to prevent improper influence on investment decisions, and enhanced public disclosure
Invested millions of dollars in New York companies to grow the State's economy
Fought for changes in Iran and Sudan, promoting responsible investing
Created opportunities for minority and women fund managers.
As the State's fiscal watchdog, DiNapoli has emphasized that "every dime counts." He has been an outspoken critic of fiscal gimmicks and other poor budget practices. His accomplishments and initiatives include:
Overseeing nearly 550 audits in 2009, and identifying more than $1.5 billion in savings and revenue enhancements for State and local governments
Completing a five-year school accountability project which involved auditing all 733 school districts and BOCES in the State
Conducting regular audits of the State's $45 billion Medicaid program, which identified $182 million in overpayments and savings in 2009
Giving the public unprecedented access to financial data on government revenues and expenditures through his Open Book New York website
Proposing reforms to make the State budget processmore responsible and open, and correct the chronic imbalance between income and spending
Proposing reforms to bring State borrowing under control.
DiNapoli is committed to making State government serve the people of New York better. His reforms include:
New regulations to prevent ineligible individuals from collecting pensions
Enabling the public to track how the State is spending federal stimulus dollars, and stopping questionable stimulus contracts
A financial education initiative, Your Money New York, to help ordinary citizens make smart decisions with their money
An ambitious Green Initiative to promote cost-effective, environmentally sustainable practices
Improvements to the State contracting process to encourage competition and ensure vendor responsibility, prompt contracting and equal opportunity
New ethics rules to ensure all employees in the Office of the State Comptroller conduct themselves according to the highest standards of integrity.
Previously, DiNapoli represented northwestern Nassau County in the State Assembly for 20 years. During his legislative career, he fought to restore fiscal responsibility in Nassau County, prevent fraud and mismanagement in school districts, and clean up the State's water supply.
A lifelong resident of Nassau County, DiNapoli first gained recognition in 1972 when he was elected to the Mineola Board of Education at the age of 18, becoming the youngest person in New York State to hold public office. He holds a bachelor's degree in history from Hofstra University and a master's degree in management and urban policy from The New School University. Prior to his election to the Assembly, DiNapoli was a manager in the telecommunications industry and served as an adjunct professor.