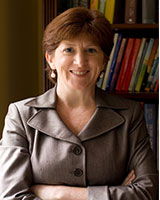 On January 1st 2014, Kathy M. Sheehan became the first woman Mayor in Albany's history.

In 2010, after winning a city-wide election, Kathy became Albany's Treasurer and Chief Fiscal Officer. Kathy modernized the City's tax collection system and completely overhauled its scandal-plagued parking ticket system. She serves on the Boards of the Central Avenue and Downtown Business Improvement Districts, Albany Industrial Development Agency and Albany Community Development Agency.

Kathy grew up in a family that valued hard work and community service. Her parents stressed the importance of education to Kathy and her five brothers and sisters. She put herself through college, earning a bachelor's degree in journalism. After a five year career in communications, Kathy went back to school in 1991, attending Albany Law School on an academic scholarship. She graduated magna cum laude in 1994.

Kathy started her legal career as an attorney in the Albany office of Bond, Schoeneck & King. In 1996 she joined Intermagnetics General Corporation, a leading medical device manufacturer based in Latham. As vice president, general counsel and corporate secretary, Kathy helped grow the company from 500 employees to more than 1,200 and from $90 million to more than $300 million in sales. In 2006, she helped negotiate the $1.3 billion acquisition of Intermagnetics by its largest customer, Philips Medical Systems.

Kathy married her husband, Bob, in 1992 at St. Vincent DePaul Church on Madison Avenue. They have dedicated countless hours serving our community.  Bob was the president of the Helderberg Neighborhood Association and served on the board of Albany Youth Soccer.  Kathy was a Trustee of St. Vincent DePaul Church and served as Treasurer of the School 19 (now New Scotland Elementary) PTA.  She is a founding member of the Albany Promise, a coalition of community members, educators, service providers and business leaders working to ensure that every child in our City succeeds academically.  Kathy also served on the board and executive committee of Proctors Theater and is a Trustee of Albany Law School.  Kathy and Bob live in the 8th ward with their 13 year old son and a rambunctious Boston Terrier.

Kathy is proud to become the 75th Mayor of Albany, New York!