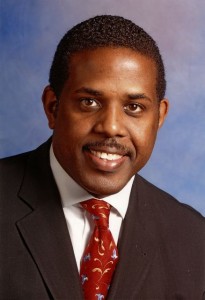 Kevin S. Parker was first elected to the New York State Senate in 2002. A lifelong resident of Brooklyn, Senator Parker represents the diverse 21st Senatorial District which includes: Flatbush, East Flatbush, Midwood, Ditmas Park, Kensington, Windsor Terrace and Park Slope. The five-term Senator is Ranking Member of the Committee on Energy & Telecommunications, and the Committee on Alcoholism & Substance Abuse. He is also Chair of the Democratic Task Force on New Americans, a founding member of the New York Caucus of Environmental Legislators, a member of the Bi-Partisan Pro Choice Legislative Caucus, and a member of the New York State Black, Puerto Rican, Hispanic and Asian Legislative Caucus.
In his first term in office, the Senator was selected as a prestigious Flemming Fellow, a program that trains emerging state legislators from across the 50 states. In 2005, he participated in an intensive government course work with elected and other professionals of various fields from around the country at the Kennedy School of Government. He was also one of 40 emerging state leaders from across the country to receive a Toll Fellowship from the Council of State Governments.
Senator Parker's professional background also reflects a wide range of public service and commitment to a better New York. As the Special Assistant to former New York State Comptroller H. Carl McCall, he managed intergovernmental relations in New York City and was the liaison between the Comptroller and city, state and federal elected officials. He has extensive experience working in government and the private sector. Senator Parker also worked for the New York State Urban Development Corporation, and UBS PaineWebber.
The Senator's work history also includes a number of academic positions, where he has taught as a professor of both African-American Studies and Political Science at several colleges including: University at Albany, Baruch College – CUNY, SUNY-Old Westbury, John Jay College-CUNY, Medgar Evers College – CUNY, City College and Long Island University Brooklyn Campus. In addition, he is a faculty advisor to student organizations and activities at Brooklyn College and has taught graduate courses at Brooklyn College's Center for Worker Education.
Senator Parker received his B.S. in Public Service from Penn State, and an M.S. from the New School for Social Research Graduate School of Management and Urban Policy. He is currently pursuing a doctoral degree in Political Science at the City University of New York Graduate School and University Center. He is also a member of the Alpha Chapter of the Pi Eta Honor Society.